In this article we will answer the question, is SSD on SATA 2 or the 3 GB/s interface used by the older computers worth it, The answer is definitely yes and you will see that in the following Real-World benchmarks and comparisons to a HDD. You can watch the following video or read the written article below.
Overview
---
As an example I will use the Samsung SSD 850 EVO on my old computer, a 2009 Dell Desktop PC:
CPU: Core 2 Duo E8400 at 3.0 GHz
RAM: 5GB of RAM
HDD: Hitachi 750 GB HDD at 7200 rpm
The tests for the both drives will be performed on a same operating system, Windows 8.1 Professional installed on my HDD and then migrated, or cloned to the SSD.
SSD vs HDD Comparisons
---
I will start with the benchmarks made with the CrystalDiskMark software. The results are obvious and a significant speed increase for both reads and writes can be noticed.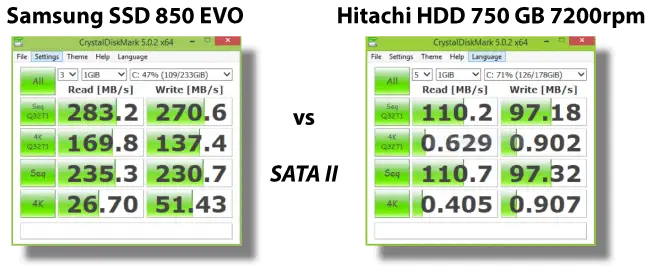 Next let's see the speed difference in copying files. As an example I have two video files of about 2.3GB. Here we can notice about four times faster copying speed with the SSD. It sticks at around 120 MB/s while the HDD sticks at around 30 MB/s.

The next test is booting the computer with Google Chrome set to launch at start up and additionally launch Mozilla Firefox and relaunch Google Chrome. The total elapsed time with the SSD is about 1 minute and 15 seconds while with the HDD is about 1 minutes and 55 seconds and that's about 40 seconds difference.

Conclusion
---
As a conclusion of the comparison in the video, I can say that the SSD worth every penny of it even for an older computer using SATA 2 interface.
The overall user experience is significantly better
Programs launch much faster
Working in performance demanding programs like photo or video editing is faster
Switching between multiple programs is faster
Browsing is faster and so on.
Your old computer would be very happy for it.